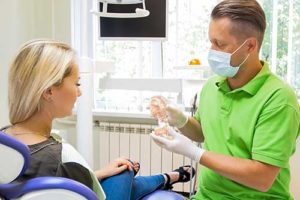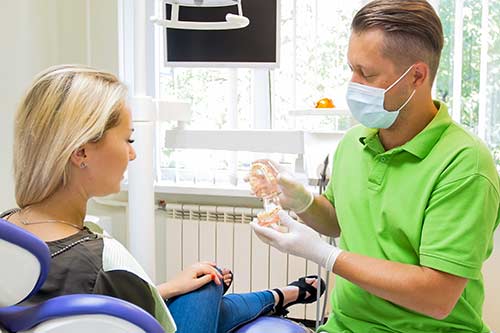 Do you have a cavity, cracked tooth, or gaps from missing teeth? Restorative dentistry services may be able to help. Restorative dentistry refers to procedures used to fix or replace teeth, and the experienced dental professionals at Lovett Dental Sharpstown in Texas can restore your appearance and preserve the functionality of your teeth.
What Are Common Restorative Dentistry Procedures?
The following common dental restoration procedures return your teeth to optimal functionality:
Dental filling: Fillings are the most popular restorative service. Bacteria infiltrate the enamel of a healthy tooth, leaving behind holes or cavities. A Lovett Dental Sharpstown dentist can remove the damaged portion of the tooth and fill it with a natural-looking composite to protect the tooth from further damage.
Root canal: If a cavity penetrates the soft center of the tooth, called the pulp, you may need a root canal. During a root canal, an endodontist cleans the soft pulp and nerves from inside the tooth. After thoroughly cleaning the infection, your dentist uses a composite material to fill the inside of the damaged tooth so it cannot become infected again.
Crown: Your teeth may become damaged from decay or injury. Sometimes, the dentist will recommend using a crown to replace the damaged portion of the tooth. The dentist shaves the tooth, which prepares the tooth for a natural-looking crown. Your tooth root remains in place.
Bridge: A dental bridge can consist of multiple teeth or an artificial tooth balanced between two crowns. There is no tooth or root beneath the bridge. So, you may need a bridge to correct gaps left by missing teeth.
We may suggest one or more of these services to keep your smile healthy.
Dental Implants, Dentures, and Dental Restoration
Dental implants can replace extracted or missing teeth, provided you have enough bone to support the implant. This dental restoration technique includes an artificial root and tooth. It bonds to the jawbone and helps prevent bone loss. Further, dental implants anchor dentures and bridges.
You may need dentures if you have lost most of your teeth. Full and partial dentures restore natural tooth functionality. Upper dentures include the replaced teeth, and an arch fitted to your mouth. When you use implants to support dentures, they typically snap into place on top of implants in the upper and lower jaw.
What Are the Benefits of Dental Restoration?
Restorative dentistry services bring the following benefits to our clients:
Improved functionality: Instead of pain and discomfort from damaged teeth, restored teeth allow you to eat and speak comfortably and improve dental health.
Reduced pain: Cavities and infected teeth can cause severe pain. Let us alleviate your pain with the appropriate dental care.
Improved appearance: Smile with pride and celebrate freedom from pain with restorative dentistry at Lovett Dental Sharpstown in Texas. Missing teeth cause changes in the structure of your face. Crowns, bridges, and implants help restore your appearance.
Retain bone density: When a tooth goes missing due to extraction or injury, the underlying jawbone weakens. We can replace the missing tooth with a dental implant to preserve bone density.
Contact our office for more information on comprehensive family dental care. We will set up a consultation to help you understand all your options and make a recommendation for your restorative or general dental care.
Learn More About Restorative Dentistry Services at Lovett Dental Sharpstown
Restorative dentistry corrects broken or damaged teeth using the latest techniques available. The dentists and specialists at Lovett Dental Sharpstown stay on top of the latest technology to help you maintain the best possible oral health. From filling cavities to conducting root canals, our team offers full-service restoration dentistry to your family. Contact us at 281-975-5560 for more information or to schedule an appointment today.