Orthodontics generally refers to corrective dentistry and is most often associated with braces. However, this specialty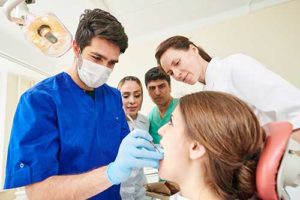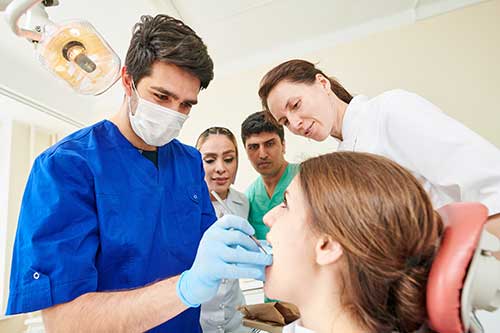 branch is more than just hardware. An orthodontist has the skills and expertise to fix smiles, straighten teeth, and even realign the jaw using various calibrated tools and techniques.
If you or someone you love needs to see an orthodontist, it can be a difficult decision to make. At Lovett Dental Sharpstown, it's our pleasure to provide specialty dental services for your entire family, ensuring that everyone looks and feels their best by the time they go home.
When Is the Best Time to Visit an Orthodontist?
Orthodontic services are most effective for children. Ideally, a patient should visit an orthodontist around the time they get their first permanent teeth. However, people of all ages can see the orthodontist when they're ready for a change.
Adults have fewer options than children who need braces, but this doesn't mean they can't have a beautiful, healthy smile. If you schedule a consultation with our Lovett Dental Sharpstown team, you'll have a chance to meet the team, ask questions, and determine which treatment plans are right for you. After all, we want to put you at ease throughout your time in our office.
What Can I Expect if I Need Braces?
If you need braces, the initial appointment for orthodontic treatment will last for about an hour. The orthodontist will secure the braces, while the rest of the staff ensures that you're as comfortable and relaxed as possible. From there, you'll need to see the orthodontist once every 4 – 8 weeks to ensure that the teeth are progressing at an appropriate pace. You'll still need to check in with your regular dentist twice a year for teeth cleanings and checkups.
Can Braces Prevent Future Dental Problems?
Proper teeth alignment from orthodontic treatments can reduce your odds of the following:
Speech impairments
Poor dental hygiene
Bite issues
Jaw pain
The disadvantages of misaligned teeth are relatively straightforward. The more crowded the teeth are, the harder it is to clean between them. An open bite caused by an overlap of the front teeth can make it difficult to eat and speak. A crossbite, where the upper teeth rest behind the lower teeth, can stress the jaw, leading to chronic pain.
When the teeth are properly spaced, everything from chewing to flossing becomes much easier. It's a lifetime worth of benefits after just a few trips to the dentist.
What Kinds of Braces Are Available?
For decades, orthodontics was synonymous with traditional braces. And even as times change, it remains a good choice for families and adults. Today's options are made of high-grade stainless steel, but they're more comfortable and smaller than previous versions. The brackets, archwire, and colored bands of braces all work together to pressure the teeth to fall in line.
You can also choose ceramic braces made of a clear material. This is a cosmetic choice and typically requires more hygiene care because they are larger and less durable than traditional varieties.
Finally, there's clear aligner treatment available to patients. This option involves trays that can be worn to correct various conditions, including overbites, underbites, gapped teeth, and crossbites. These have been hailed for providing fast results and for being more comfortable and convenient. They can be removed instantly, and they're virtually invisible.
From space maintainers to cheek numbers to jaw expanders, braces are by no means the only way to correct a problem. The goal at Lovett Dental Sharpstown is to provide you and your family with as many options as possible, so you get what you're looking for.
What Is the Advantage of a Full-Service Dental Practice?
What sets Lovett Dental Sharpstown apart? We not only provide outstanding orthodontic services, but we also offer dental services for the entire family. This kind of full-service dental practice gives you the advantage of having your whole family's dental needs be taken care of under one roof. There's no need to drive all over the Lone Star State for your family's dental appointments. Contact our friendly team today and schedule appointments for you and the rest of your family.
Choose the Best Orthodontics for Your Smile at Lovett Dental Sharpstown
Lovett Dental Sharpstown offers specialty dental services like orthodontics, general dentistry, family dentistry, and emergency dental care. One of our strengths is our orthodontics team. They will be clear with you about any procedures you may need and what exactly the procedure entails. This is also a strategy to decrease dental anxiety for our patients. Our Lovett Dental Sharpstown team wants all of our patients to feel safe and comfortable throughout their dental appointments.
Call 281-975-5560 to schedule an appointment with one of our skilled dental experts for orthodontic services in Houston, Texas. Choose to give yourself the gift of the smile that you've always wanted. Reach out to Lovett Dental Sharpstown today.